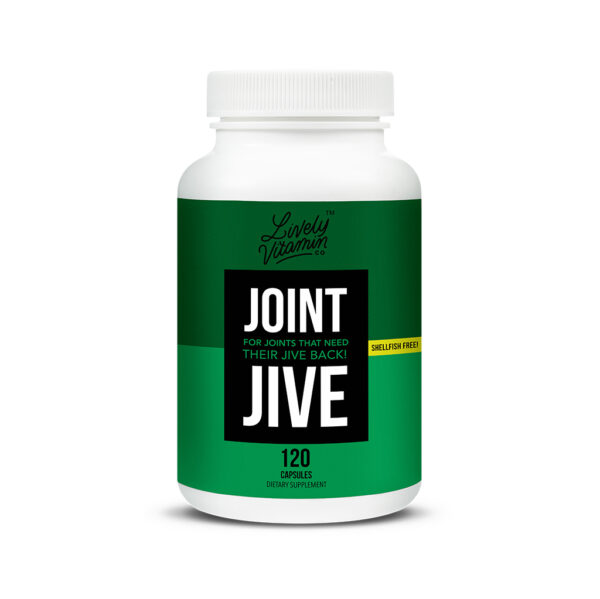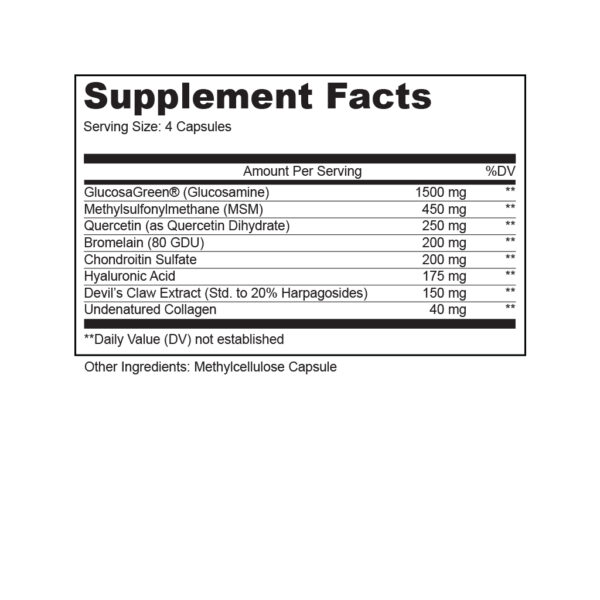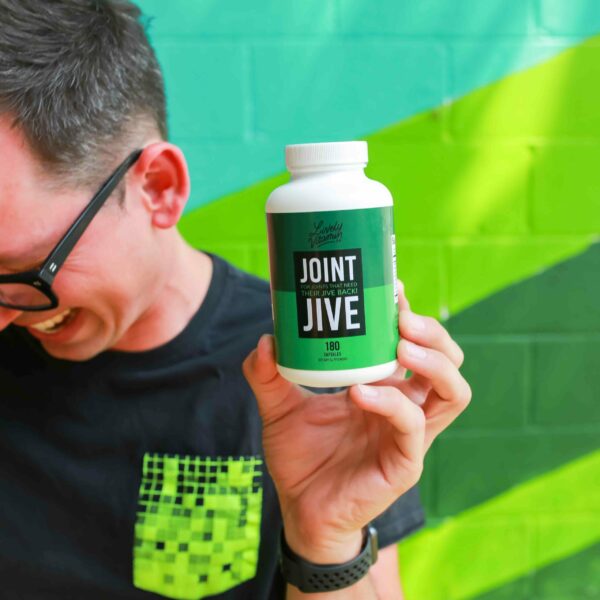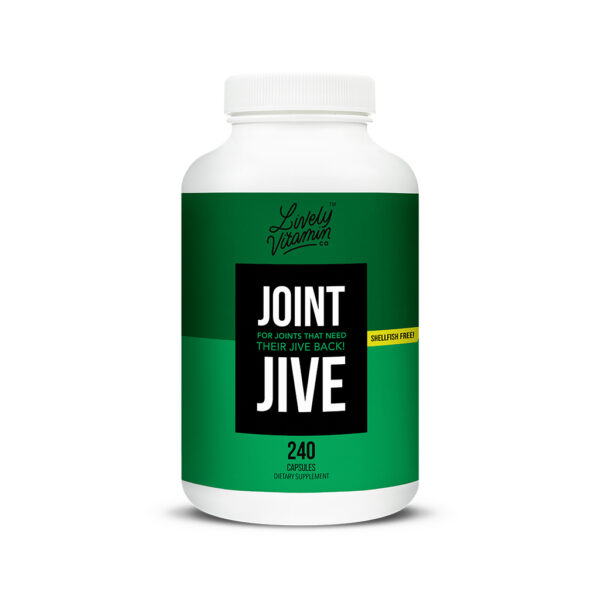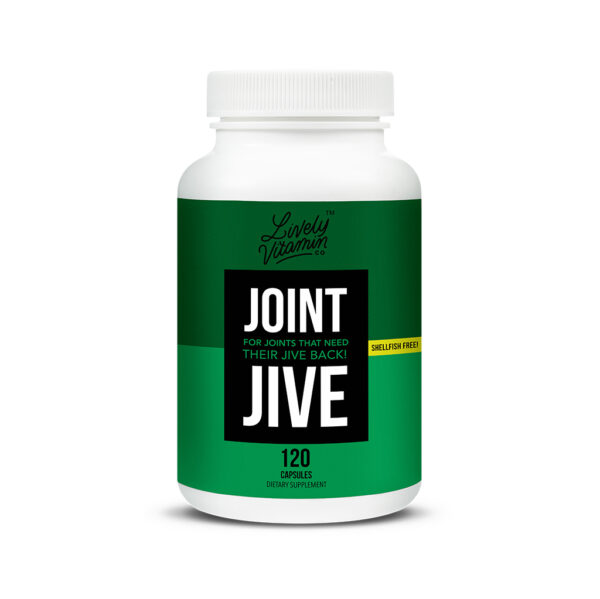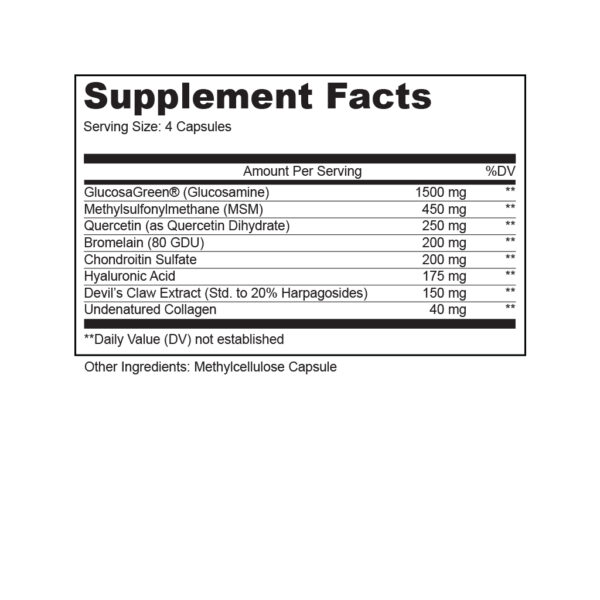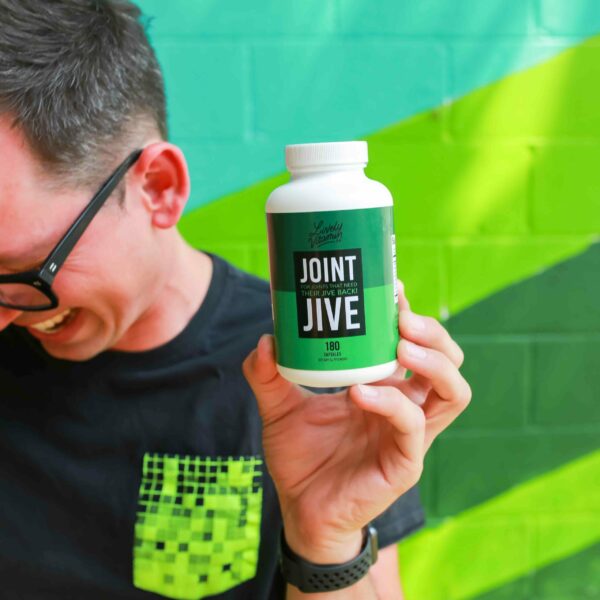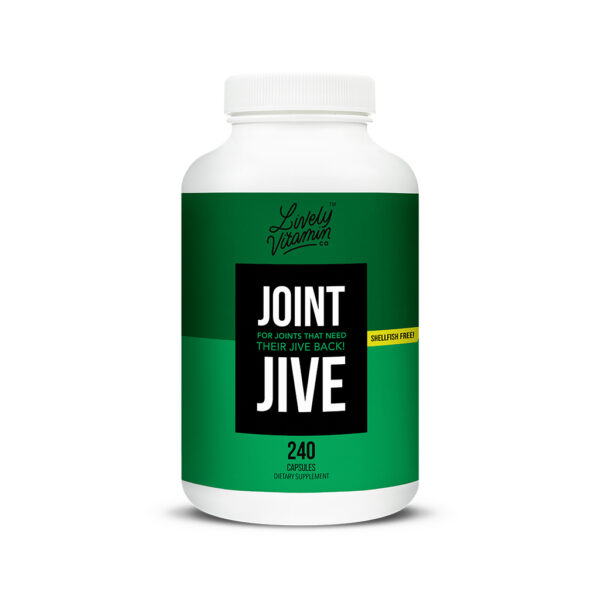 Joint Jive
Dissolve your discomfort and bring life back to your joints with all the goodness of our original formula — this time without the shellfish! † 
Supports healthy joint elasticity and mobility*
Helps alleviate discomfort caused by overuse*
Protects bone health and aging*
Rich in nutrients from carefully sourced herbs and plant compounds
Shellfish-free formula!
For joints that can jig and jive just the way they used to, you need to try Joint Jive! It nourishes cartilage, lubricates creaky joints, and encourages comfortable, ache-free movement. Plus, unlike most joint supplements, this option is shellfish-free! 
Joint Jive is a favorite among our customers! It's loaded with powerful nutrients that everyone can trust, from antioxidants to inflammation-protecting ingredients. But that's not all! Check out what makes this the best joint supplement on the market.

It's common for joint supplements to contain glucosamine. While our cartilage naturally consists of glucosamine, the nutrient used in joint health supplements is harvested from shellfish, which can be dangerous to individuals with a shellfish allergy. That's why we created a nourishing way to support joint health that is accessible to everyone — allergy-sensitive or not! 
Devil's claw

relieves occasional aches due to overuse and promotes a healthy response to inflammation.* 

Collagen

is one of the best nutrients in supplements for joint pain! It naturally supports cartilage health and helps alleviate joint discomfort.*

Bromelain

supports the body's natural inflammatory response and protects against occasional joint discomfort.*

Hyaluronic acid

is essential to healthy skin and assists in joint lubrication, which helps diminish discomfort and encourage easier movement — so you can run, climb, bike, dance, and do all those things you love best!* 

Quercetin

offers powerful antioxidant properties that preserve joint, bone, and muscle health so that you can move around without discomfort!*

GlucosaGreen

makes this one of the best joint supplements! It's a shellfish-free form of glucosamine that is safe for the environment. Additionally, it's easily absorbed and promotes healthy cartilage just like normal glucosamine!*

MSM

(methylsulfonylmethane) aids bone, joint, and cartilage health by supporting glucosamine and collagen production.*

Chondroitin sulfate

protects against the breakdown of cartilage and helps boost bone strength and joint integrity — so you really can jive all night long!*
Ready for more fun and less discomfort? Try the best joint supplement out there — Joint Jive (Shellfish Free)! This joint-lubricating powerhouse offers all the support your bones, joints, and muscles need to power through occasional discomfort and keep you ready for action all the time! 
Now your joints can jive once again — without the worry of shellfish or achiness getting in your way!*†
Questions? We've got answers! Send a message at hello@livelyvitaminco.com for help.
---
Serving Size: 4 capsules
Servings Per Container: Varies by size
Ingredients: GlucosaGreen (Glucosamine), Methylsulfonylmethane (MSM), Quercetin (as Quercetin Dihydrate), Bromelain (80 GDU),  Chondroitin Sulfate, Hyaluronic Acid, Devil's Claw Extract (Standardized to 20% Harpagosides), Un-denatured Collagen
Other Ingredients: Methylcellulose Capsule
DAIRY-FREE | GLUTEN-FREE | SOY-FREE | SHELLFISH-FREE | NON-GMO
Made in the USA with globally sourced ingredients
---
† Occasional muscle pain due to exercise or overuse
*These statements have not been evaluated by the Food & Drug Administration. This product is not intended to diagnose, treat, cure, or prevent any disease.