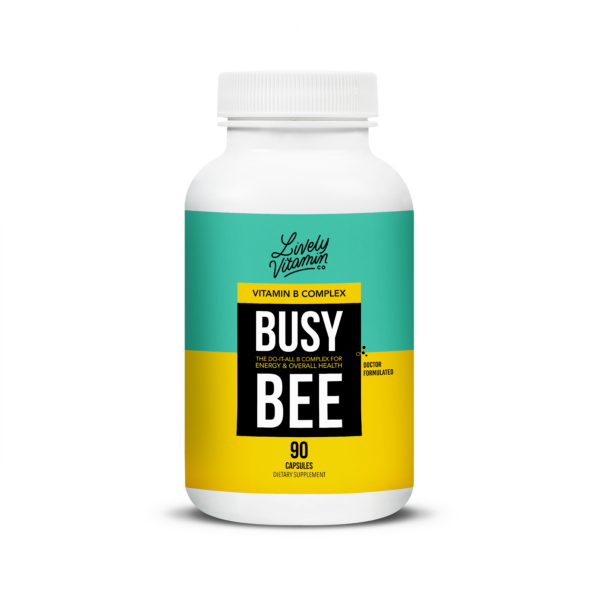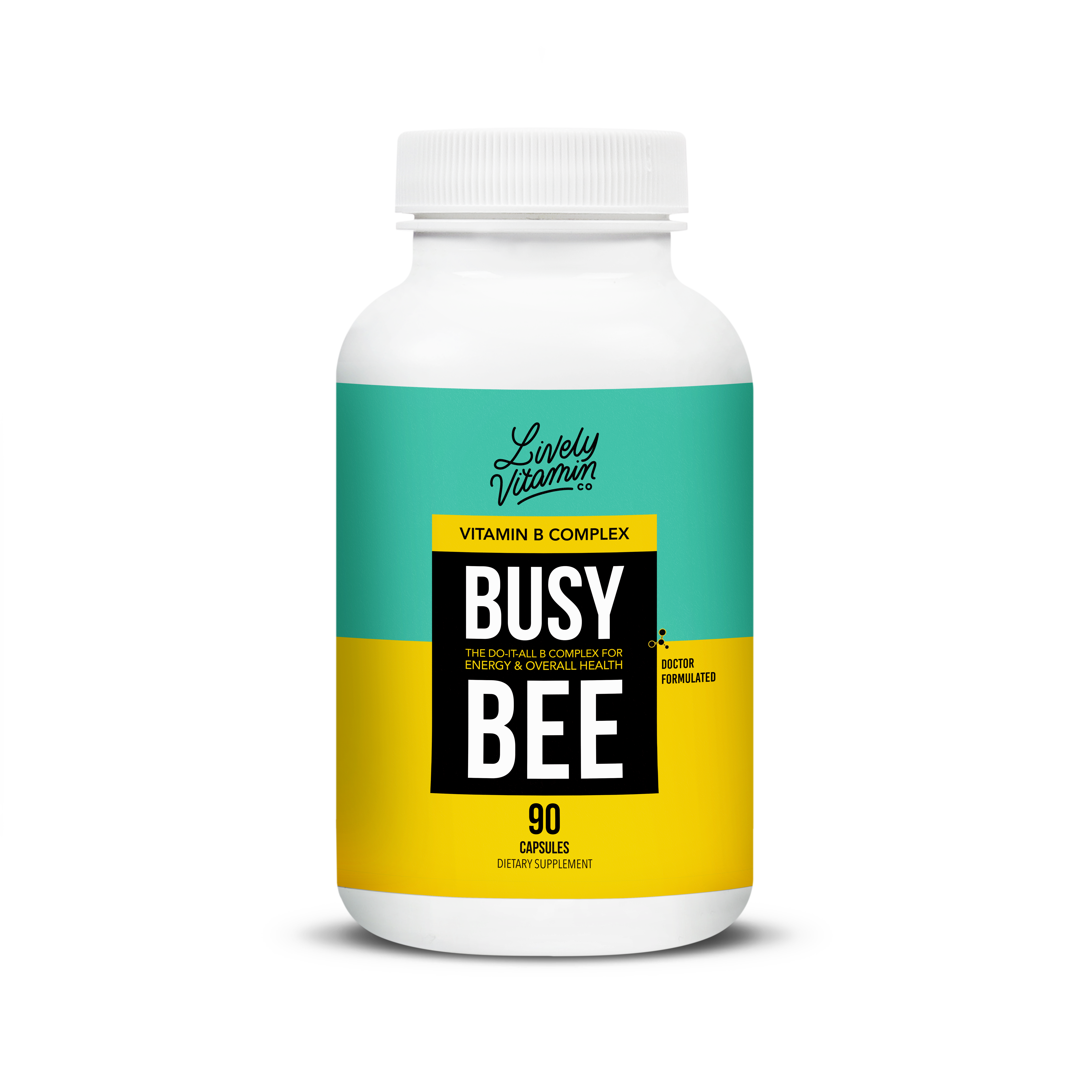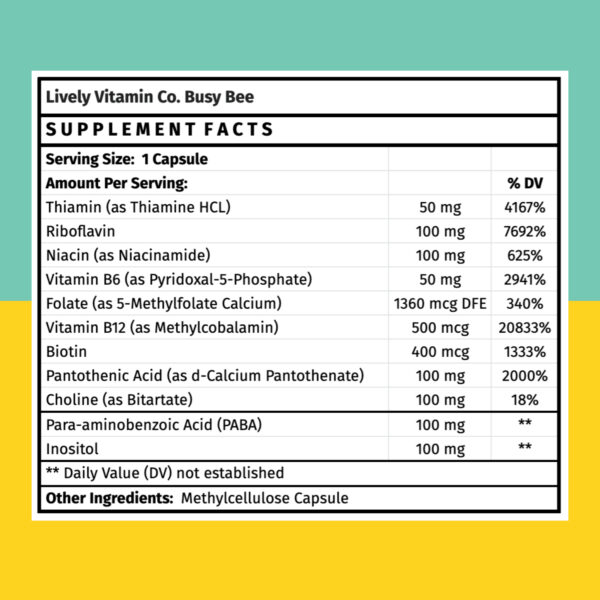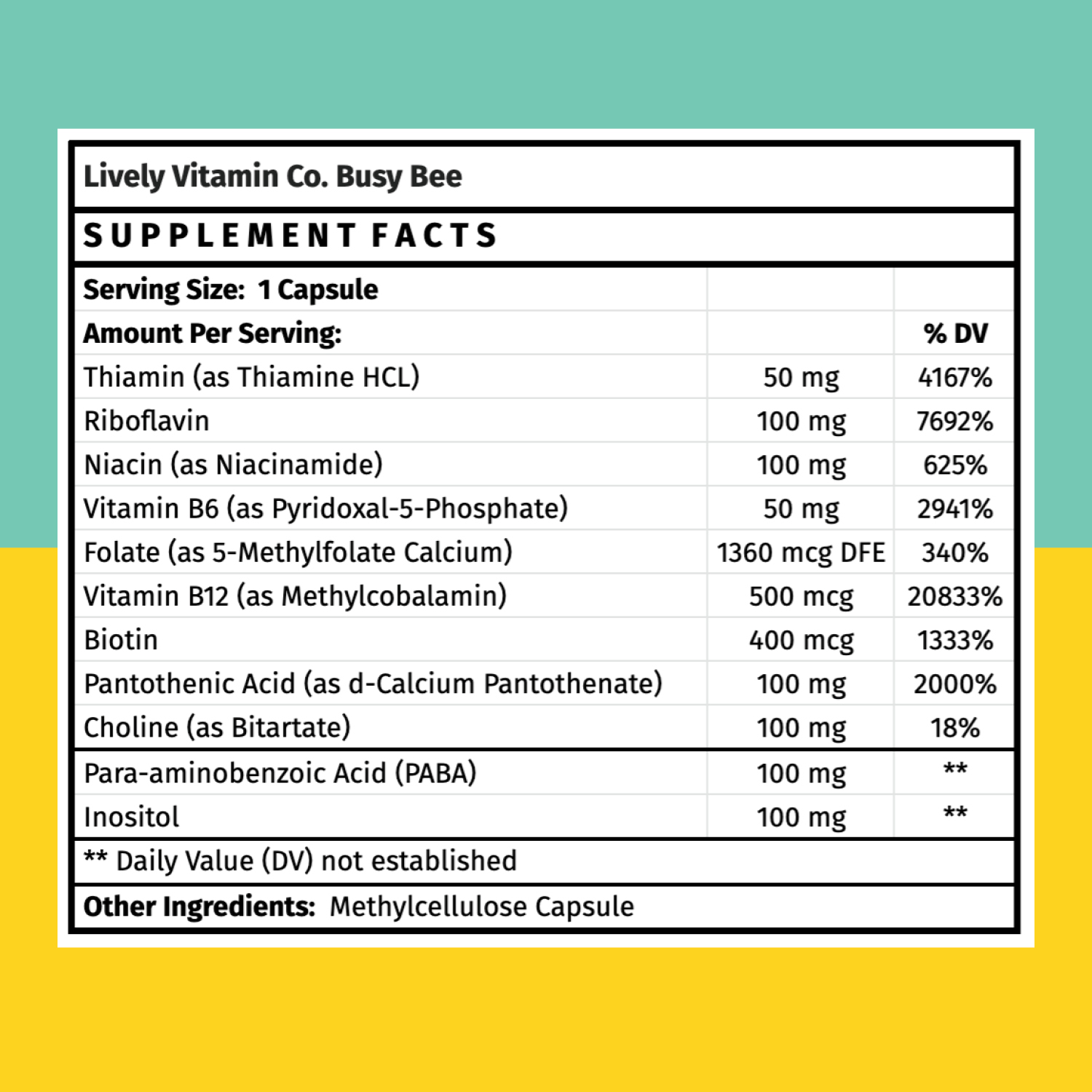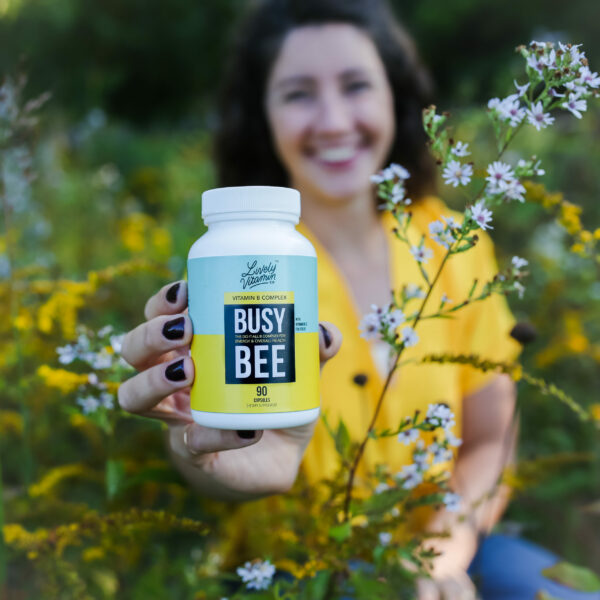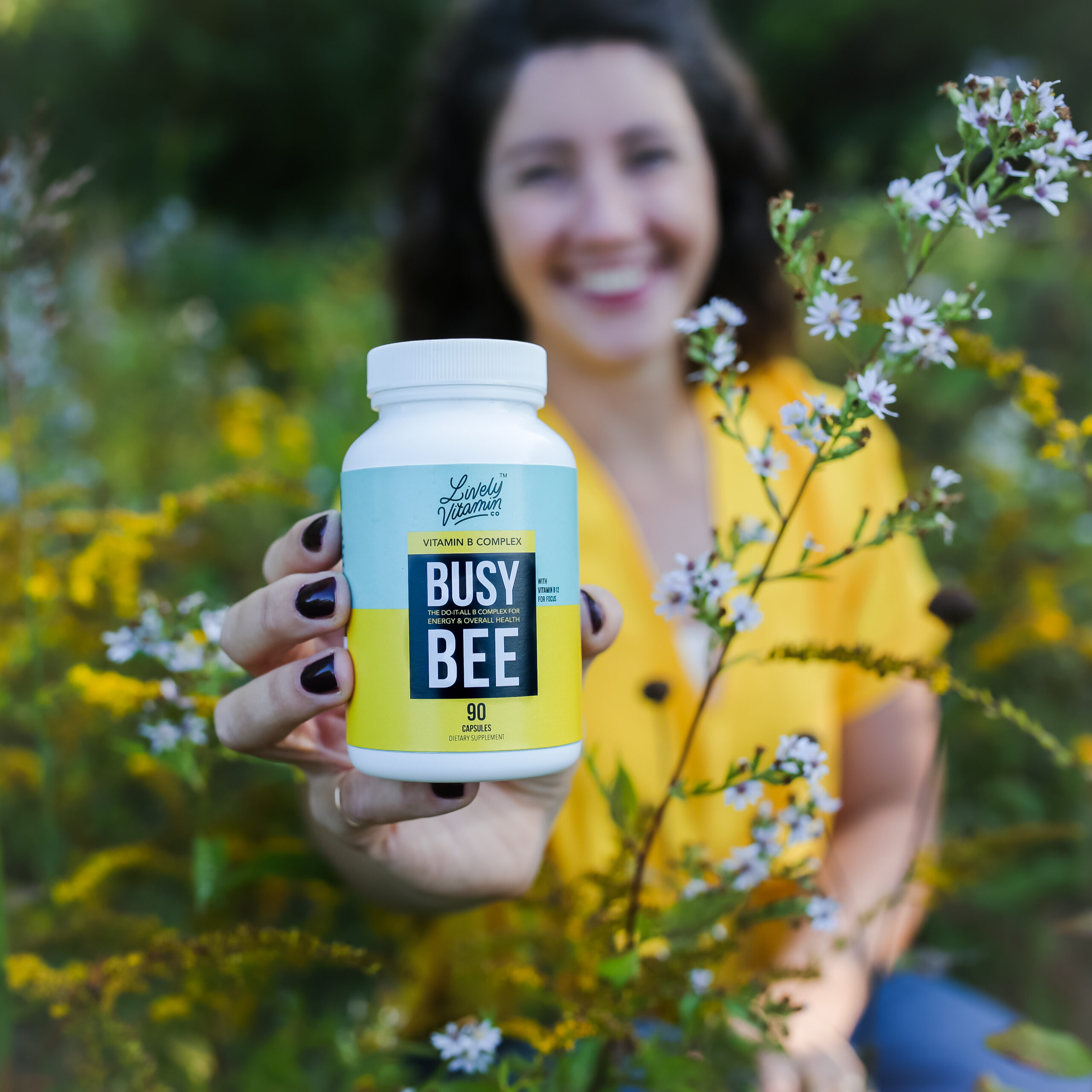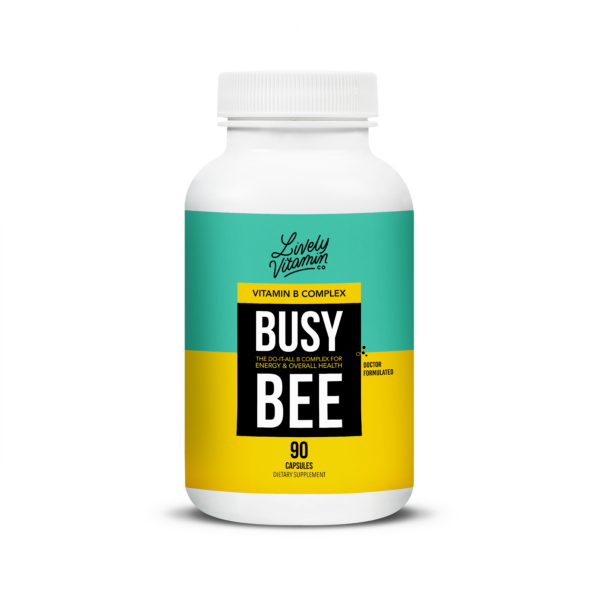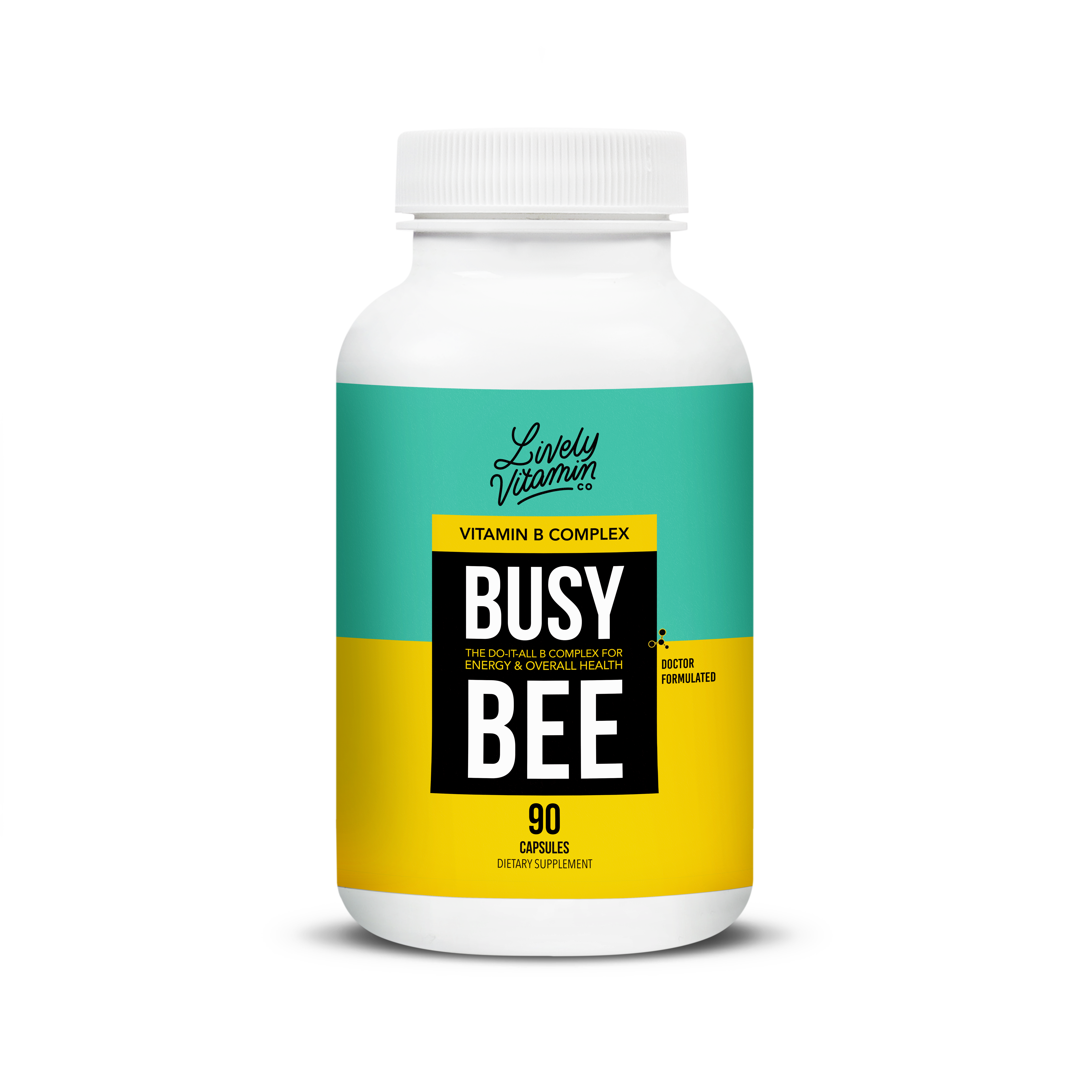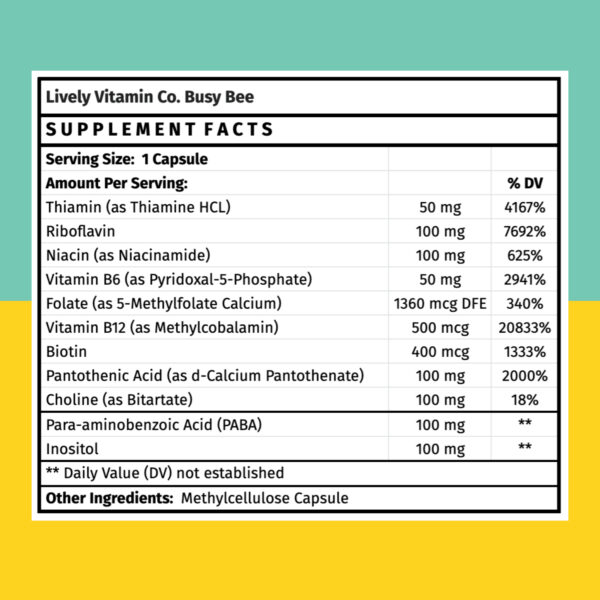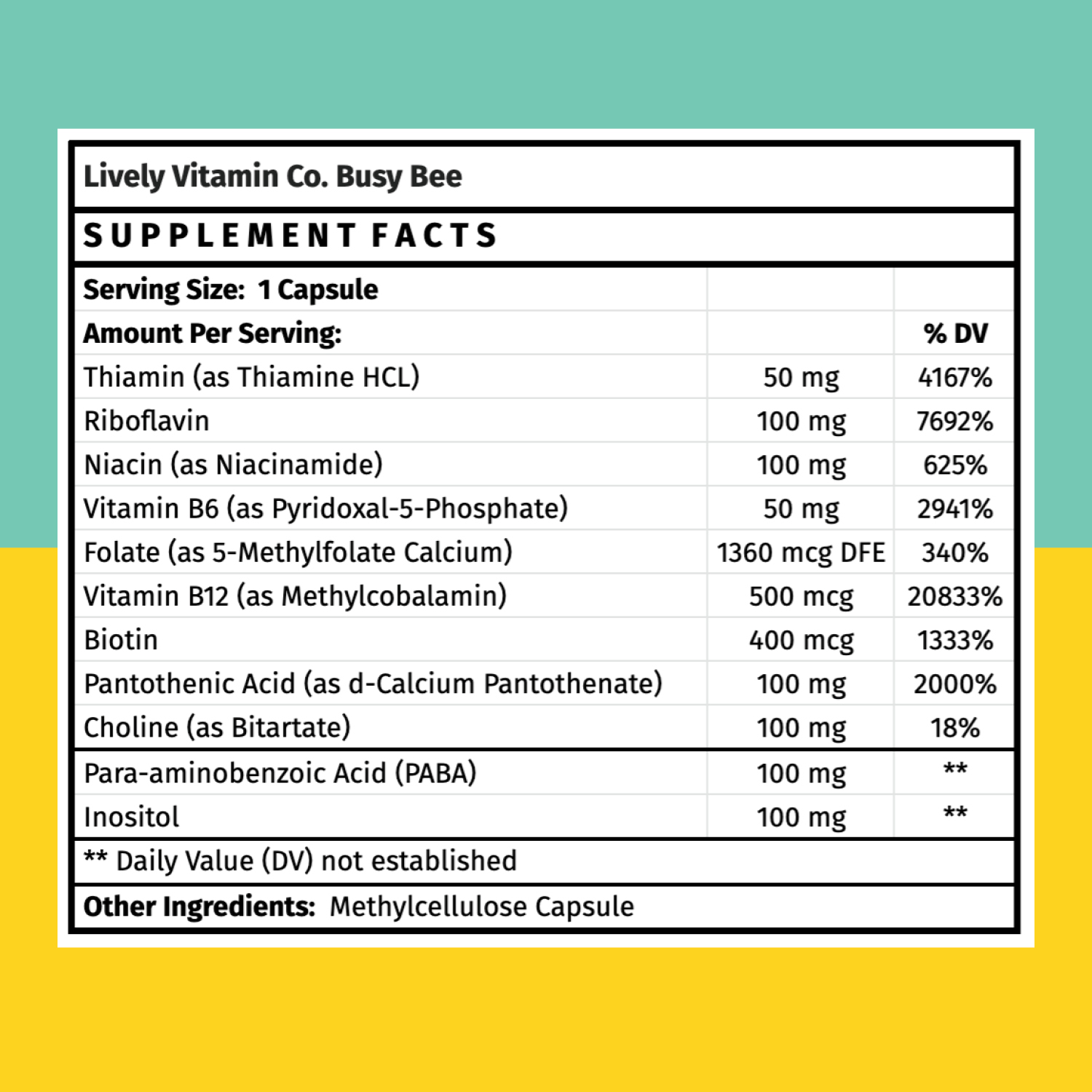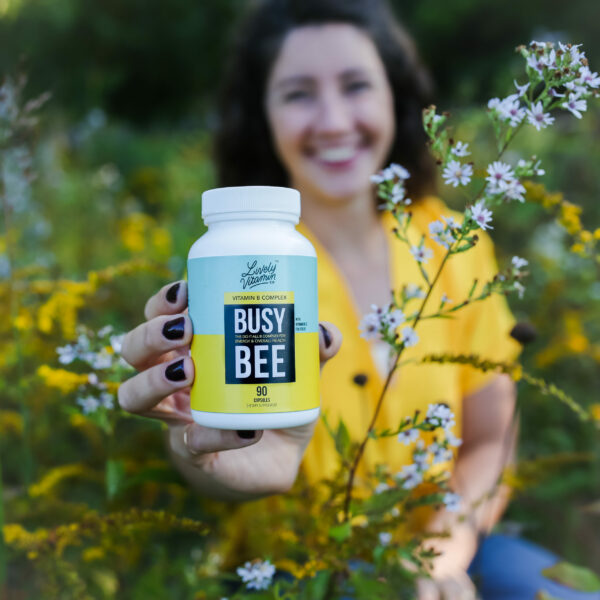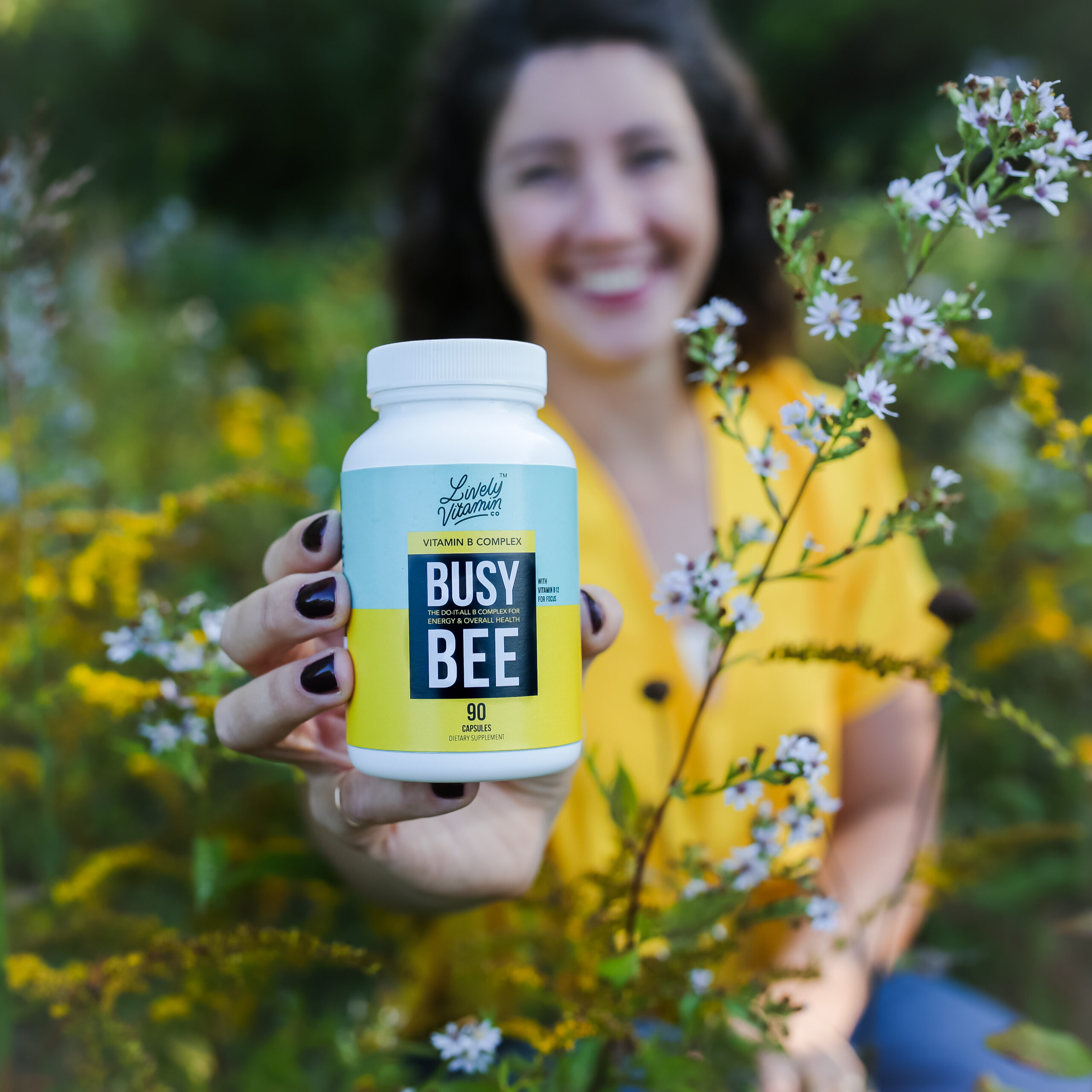 Busy Bee
90 CAPSULES
Stay buzzing with higher energy, sharper focus, and less stress! Busy Bee combines all eight essential B vitamins for all the bzz-bzz-benefits you could ask for!
Improves natural energy levels*

Encourages a healthy stress response*

Sharpens mental clarity*

Supports nerve and cellular health*

Promotes cardiovascular and circulatory function*

Maintains healthy inflammatory levels*

Protects against oxidative damage*

Easily-absorbed B vitamins!
If fatigue, brain fog, and high stress are bringing down your buzz, we have the perfect solution! Our amazing B-complex vitamin combines all eight essential B vitamins to enhance your energy, sharpen your focus, and reduce your stress, so you can stay as busy as a bee!
Busy Bee is the best energy supplement to comprehensively increase your energy and mental clarity. Why? This B-complex vitamin is created with all eight essential B vitamins in their most bioavailable and natural forms. That way, your body can easily absorb these nutrients and gain the most effective benefits. And believe me, there are plenty of benefits!

Thiamine HCL (B1)

combats brain fog, boosts energy, and promotes nerve and cellular function.*

Riboflavin (B2)

helps fight fatigue and protect against cellular damage, plus it enhances immune health.*

Niacinamide (B3)

supports your natural inflammatory response, which plays an essential role in encouraging healthy skin and bones!*

D-calcium pantothenate (B5)

promotes absorption and hormone production, which preserves natural energy levels.*

Pyridoxal 5'-phosphate (B6)

, the active form of vitamin B6, boosts your energy, natural stress response, circulatory function, and mood regulation.*

Biotin (B7)

— also known as the hair, skin, and nails vitamin — maintains healthy hormone production, which is crucial to relieving occasional stress and fatigue.*

L-Methylfolate calcium (B9)

sharpens mental clarity, encourages immune function, and preserves natural red blood cell production.*

Methylcobalamin (B12)

is three times more absorbable than other forms of vitamin B12! This natural and powerful nutrient enhances energy levels and aids in a healthy stress response.*

Choline bitartrate

might not be a B vitamin, but it works harmoniously with the rest! It is especially helpful in this B complex supplement because it encourages easy absorption, sharp mental function, a balanced mood, and healthy cells!*
If you struggle with low energy, high stress, or mental fatigue, you may be experiencing a B vitamin deficiency. Unfortunately, vitamin B deficiencies are common, and you can often look out for more signs such as fatigue, weakness, poor memory, and depression. However, there's no need to be down in the dumps. Busy Bee can give you back your energy!*
Here at Lively Vitamin Co., we want to help you make the most of each day. With our comprehensive B-complex vitamin, you sure can! Combat fatigue, brain fog, and high stress — and avoid the sting of a vitamin B deficiency! — with Busy Bee.